Hi Trolls. For a number of years I've been working on a moving magnet preamp for flat, "no RIAA EQ applied" RAW recording. Flat recording gives de-clicking software a far better capture to work with. Once de-clicked, the files can be rendered with RIAA in DSP.

One of the most obvious limitations doing flat transfers is that monitoring the transfer is painful to listen to. When de-clicked in the un-EQ'd, RAW domain, de-clicking adjustments cannot be auditioned and heard in the proper, RIAA de-emphasized, context. With a flat preamp and DSP-based RIAA one still needs analog RIAA EQ. For general listening or needle drops having de-emphasis is an imperative.

The ability to simultaneously record and playback at the same time is a huge time saver. Though transfers do need to be confidence monitored during recording, one doesn't have to listen to an entire side. Being able to edit, de-click and render RIAA while recording allows true multi-tasking. For this reason I designed the flat transfer system to have separate record and monitor paths.

This post is the flat moving magnet preamp and adapted from my work at the Proaudiodesignforum. The RIAA EQ/Monitor Switcher "mult-tasker" will be in it's own thread.
An Active "Transformer" for Moving Magnet Cartridges
In my setup there's about 30 or more wire feet from the turntable to the workstation and EQ/Monitor Switcher. The flat balanced in/balanced out moving magnet preamp is designed to be remotely mounted at or near the turntable base with audio and DC on an umbilical cable back to the base. This keeps cart leads short and hum low.
The inputs and outputs are fully-balanced with shielded twisted pair tone arm cables.
A Flat Balanced Input/Balanced Output Moving Magnet Phono Preamp
The board: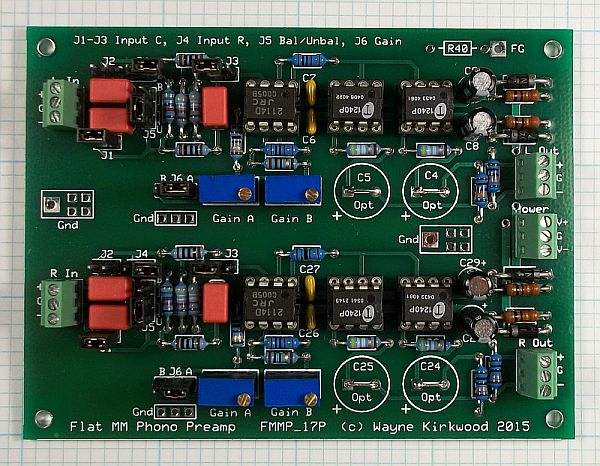 A flat, non-EQ'd, balanced input, balanced output phono preamplifier for RAW transfers using downstream DSP-based de-clicking and DSP RIAA EQ.
Preamp jumpers:
J1, J2, J3 input capacitance.
All open - No added load.
J1 is 50 pF. J1+J2 is 100 pF. J1+J3 is 150 pF. J1+J2+J3 is 200 pF.
J4 is input resistive load. Open is 99.8K, closed can be anything less than 99.8K.
With an added load of 88.7K in parallel (J4 closed) the input resistance is "47K" (46.96K).
J5 is the input configuration: Balanced or RCA coaxial.
When balanced, the input load to ground (common mode) is 49.9K/leg.
When J5 is jumpered unbalanced the "-" input is grounded and the input resistance is "100K" (99.8K). (J4 open. J4 closed 47K.)
There are two preamp gain trims for each channel.
J6 selects which gain adjustment pot is used.
This is for normal gain, typically 5 mV at 5 cm/s, and low gain for very hot, "+12 dB" dub plates.
Though it would likely not be quiet enough for MC inputs the jumper could also switch between MM and MC gains.
A MC head amp or transformer may also be used with the flat preamp.
Someone using the gain mode often would likely make the jumpers a switch or relay.
(I use them for setting either -10 or +4 dBu output gains.)
Description:
The fully-balanced input is an instrumentation amp having a gain of about +12 to +40 dB.
The preamp input is direct-coupled to the cartridge and DC-coupled up to the output.
Though op amp bias current flows in the cartridge when connected unbalanced most of the measured data I've seen shows no harmful effects.
Connected differentially however, only the offset current difference between op amps flows.
It is quite low being in the order of tens of nanoamps.
For moving magnet MM cartridges having the typical sensitivity of 5 mV at 5 cm/sec (1kHz) 18-20 dB of gain in this stage is plenty for RAW outputs.
Common mode rejection and an additional 6 dB of gain is realized in the Flat Preamp by a THAT1240 double-balanced line receiver.
The offset voltage from op amp input bias current - when a differential input cart connection is used - is primarily common mode and rejected by the THAT1240s.
For applications where connection lengths are short and balanced outputs are not wanted the second THAT1240 can be omitted.
When the companion RIAA EQ Monitor switcher board is used, the output coupling capacitors may be eliminated.
The RIAA EQ/Monitor switcher board has a downstream film interstage coupling cap to strip DC.
In free-standing applications, particularly those with high gain, output electrolytics may be used.
Noise Measurements:
I'm having difficulty making bandwidth-limited noise measurements and have no means to A-weight measurements.
Here is what I have so far:
The shielded twisted pair balanced DIN tonearm leads are about 3 feet.
The line output leads from the flat preamp are 48 feet feeding the RIAA EQ/Monitor protoboard.
I had NJM2068s already installed in the flat preamp so I used them.
It "sounds" quiet. Scary quiet.
I wanted to see what the noise level was when gain was set to produce +4dBu output.
The final output has 6 dB gain and the RIAA decoder was set to unity gain.
The remainder of the gain, all but 6 dB, was dialed into the preamp.
The ATR-96 MM cartridge is rated 5mv at 5 cm/s 1 kHz. They don't specify whether modulation is mono or single-channel.
The CBS STR-100 test record I'm using for level set is 3.54 cm/s with one channel modulated.
If I'm not mistaken this should work out to be 5 cm/s with both channels driven.
Based on that premise, I set the single channel gain to a reference level of +1 dBu.
Both channels driven should produce +4 dBu at 5 cm/s (lateral).
The RIAA EQ'd (but not A-weighted) output noise with a real cart (not a resistor), sitting on a real turntable, in a real room (with light dimmer EMI not a Faraday cage) produced an output noise floor of about -72 dBu.
This measurement bandwidth is 157 kHz. (fc=100 kHz.)
The signal to noise, unweighted, referenced to +4 dBu is about 76 dB.
A 20 kHz equivalent noise bandwidth and A-weighting will produce even better results.
AudioTester with a 22 kHz bandwidth is telling me SN should be around 78 to 79 dB.
Some of that is hum at Line and 2X, 3X and 5X line.
Its quiet, really quiet.
I suspect most of its quietness is from the balanced interface and common mode rejection.
Op Amp Choices:
BTW for someone wanting a FET input, the OPA2134 worked pretty good.
It was about 3 dB noisier (with a resistive input termination) than the NJM2068.
The NJM2114 and 5532 were about a dB noisier than the NJM2068.
The LME49720 and LME49860 are unacceptable due to burst noise. Maybe I have some bad ones.
The OPA2134 may actually be better with the cart, compared to a resistor, due to its lower current noise.
I'll let you know.
Project Goal:
I'm not looking to build an ultra high-performance spare-no-expense over-the-top piece of esoterica.
I look at a $10,000 preamp and scratch my head thinking "someone could buy a good used car with that money. Or 10 ounces of gold." (Well, almost.)
My goal is a simple tool to be used by professionals making transfers and performing test and measurement of lathes and cutting systems.
Transparency is important.
I didn't want something with a "sound," just low-noise accurate output.
Next up:
The companion RIAA EQ Monitor Switcher...