UPDATE: A significant revision of this chart appears later in the thread. As always, room for improvement. I think there should be an even more conservative version:

viewtopic.php?f=9&t=824&start=20#p30702

I am leaving all versions up as tastes vary.

******
I am trying to figure out my max possible cutting time using various lines per inch (LPI), as I figure this will help me make certain decisions about which new feed screws I want manufactured.
I came up with this data based on theory (and one research source) as opposed to experience. I am using the Presto 6N as my guide. In the case of the Presto, the absolute max inner cutting diameter seems to be 4 1/8 inches (or 10.5 cm). I am unclear as to whether the run-off groove can extend beyond this point because the lathe is not yet fully functional. (anyone know?) (EDIT: It appears that on the Presto 6N, That's IT.)
I have a xerox of a "Disc Cutting Timing Chart" circa 1964 or so, from the long- departed *
Impact Sound Recording Studio
of 7102 1/2 Castor Ave in Philadelphia, Pennsylvania, 19149 USA. Their data looked pretty close to this chart (I've evened out the seconds so they make strictly consistent mathematical sense):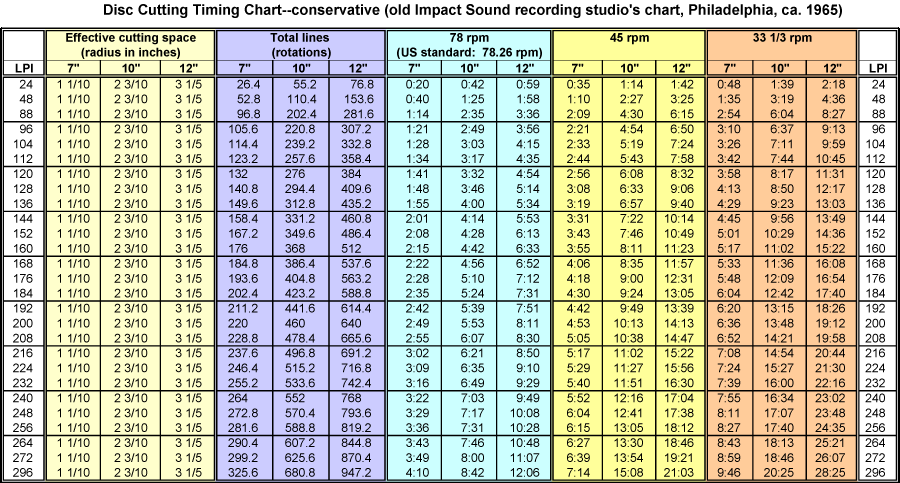 I prepared three other versions of the chart based on extreme and "safer" estimates of the potential running times at each feed screw size. Can anyone confirm which of these (if any) is most accurate? Thanks.
Notice that on this next chart, recording a 12 inch 33 1/3 rpm record gives you LPIs that are numerically related to the running time in minutes. (120 LPI gives you slightly over 12.0 minutes running time, etc.)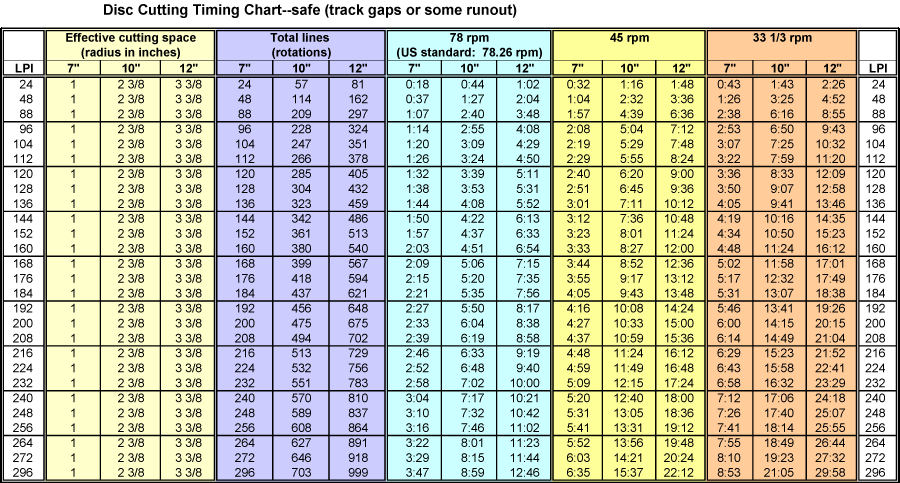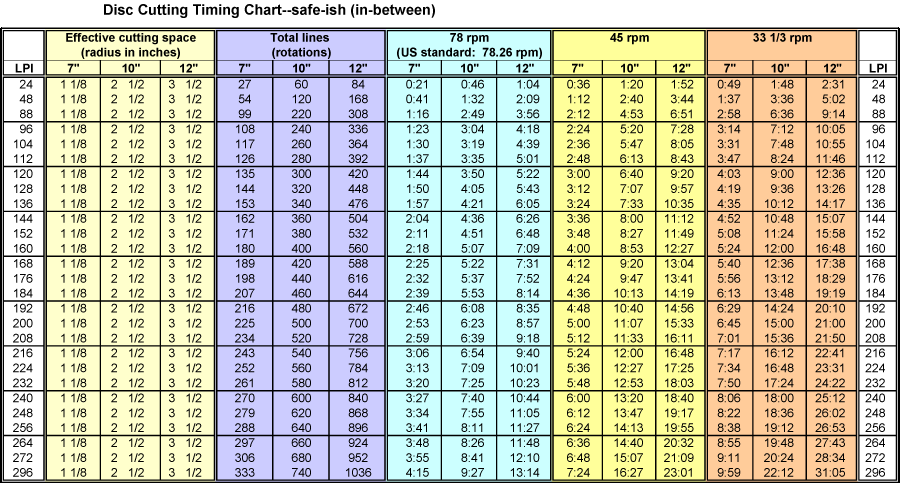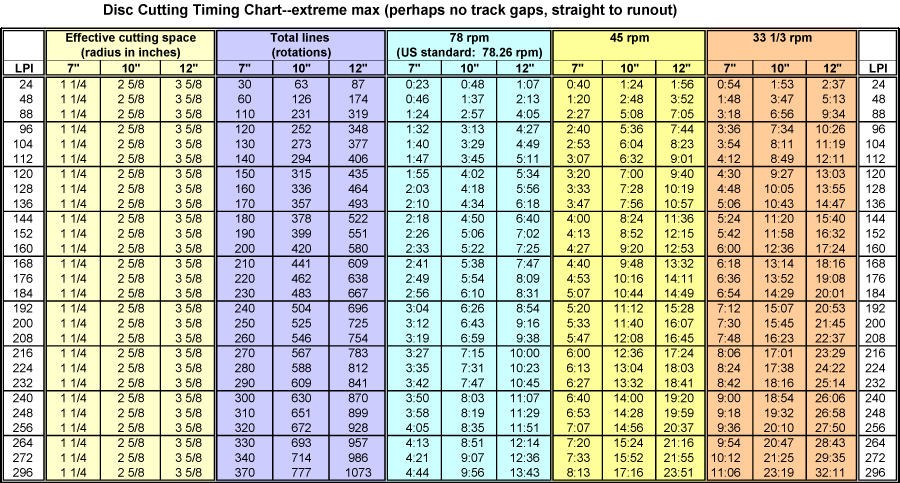 EDIT: By the way....here is the original sheet I based this on. In both its unaltered form, and with my scribbles:
http://www.steveespinola.com/lathetrolls/resources/Impact-Sound-Disc-Cutting-Timing-Chart.pdf
EDIT: Charts were updated October 10, 2012.
My original charts can be found here, in case anyone prefers them:
http://www.steveespinola.com/presto6n/lpi1.gif
http://www.steveespinola.com/presto6n/lpi2.gif
http://www.steveespinola.com/presto6n/lpi3.gif
http://www.steveespinola.com/presto6n/lpi4.gif
* Impact Sound was owned by an engineer named Tony Schmidt, who operated it out of a basement underneath a (his?) shoe store. It is now known in soul music record collecting circles for Phil Gaber's productions, from perhaps 1964 to 1971.